Chloe started suffering with very dry skin about a month before a family wedding last year. At first we thought it was due to milk catching under her chin but after feeding her differently and making sure we kept the area dry, nothing helped. So, we made a trip to the doctor.
Eczema! We're not quite sure why are neither of us have suffered with eczema, nor the older children but, Chloe does.
The doctor gave us some heavy duty cream. It was very greasy, didn't smell good and after a good week of using the stuff, it didn't seem to help.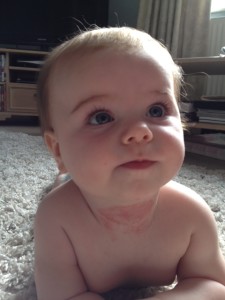 The wedding came and although she looked gorgeous (nearly as lovely as the bride), we weren't able to shift the red rash.
It did start to clear up on it's own and she went back to "normal" but a few months ago, her skin started to get very dry again and she got red blotches – under her legs this time – maybe it's to do with the time of year?
Another trip to the doctor and he said to use the same cream we used on her last time, which we had loads of left but it didn't solve anything.
On top of the cream we tried other options, we stopped using products in the bath, we stopped using any skin care products, we tried using different skins care products and keeping her skin open to the air all day long. None of this stopped her skin from drying out or stopping her rash being so raw.
And then, I suppose by chance, I was on Twitter and saw that Saira Khan (@IamSairaKhan) had retweeted a review of the skincare product miamoo. After reading the review I found out the product was excellent for dry skin conditions like eczema, over 98.5% natural and free from a wealth of harsh ingredients.
I mentioned to Saira about Chloe's skin condition and she kindly offered to send a pack of travel goodies for us to try on Chloe. Well, it wouldn't hurt.
As promised, a few days later a pack arrived on our doorstep. Chloe's skin was as dry as ever and her back and stomach were also getting dryer and dryer.
With nothing to lose, I popped the pack open and was surprised to see how much you get in there.
You need to follow a 3 step routine – cleanse (pop her in the bath), moisturise (slap some cream on), then massage (tickle). It seemed easy enough.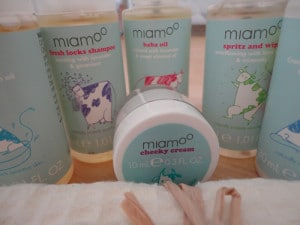 Bath time came and I popped her into the water, this time with miamoo shampoo, splashy wash and spritz and wipe. Chloe had no issue with the shampoo and it didn't seem to hurt her eyes. It smelt find and she giggled after spritzing her face clean.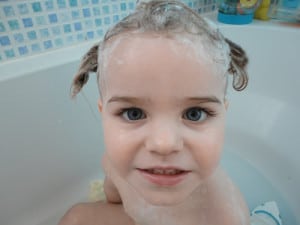 Out of the bath, it was time to dry off and so the next step. There's a lotion which I used to cover pretty much her whole body, then the cheeky cream which was quite thick so I used it on the "problem" areas – particularly behind her legs and at the back of her neck.
Then more spritz. This stuff I loved. Every time I did it she giggled – I mean properly giggled. It's quite cold but she loved the surprise of it hitting her skin so we played the game of me chasing her around the house threatening to spritz her!
By this time, Skint Mum wasn't too pleased with me. It was bed time after all and I had spent the last 10 minutes chasing a tired toddler around the house, getting her hyped up before I handed over to Skint Mum to do the last of the bed time routine. To be fair, I do hype her up most nights so Skint Mum has nothing new to be annoyed about….
I let Skint Mum do step 3. This was massaging with baba oil. When she was on maternity leave, she did a mother and baby massage course with the local Sure Start centre. It was nice watching them massage most evenings but when the oil ran out, we didn't replace it and the massages phased out.
Now we had this massage oil, Skint Mum was really happy to have some time to connect with Chloe again and it relaxed her and settled her so bed time went smoothed that we had expected.
The next morning, Chloe's skin was softer. I was slightly amazed how quickly this stuff was working so we carried on.
We didn't do the whole routine everyday as there are quite a lot of products to use and it does take a bit of time but, I used the cheeky cream through the day, and chased Chloe every now and then with the spritz clean her sticky fingers!
The skin on her body is now soft like when she was a baby. She is still marked behind her knee but the dryness has gone and you can see that it's becoming like normal skin again, not scabby and weeping like it was before.

I am really happy with the miamoo products and will continue to use them on Chloe.